Business
Planning, developing, purchasing, manufacturing of modeling clay, UV resin and related products, and wholesaling & selling online
PADICO is a Japanese company that develops & sells modeling materials centered on clay and UV resin, and is expanding its business into a wide range of areas.
Since its founding, PADICO has expanded into the hobby, school materials, and general learning markets, and in recent years has expanded its sales channels into the beauty products and nursing care & welfare markets.
In exports, we provide products to 35 countries around the world, including 12 major countries.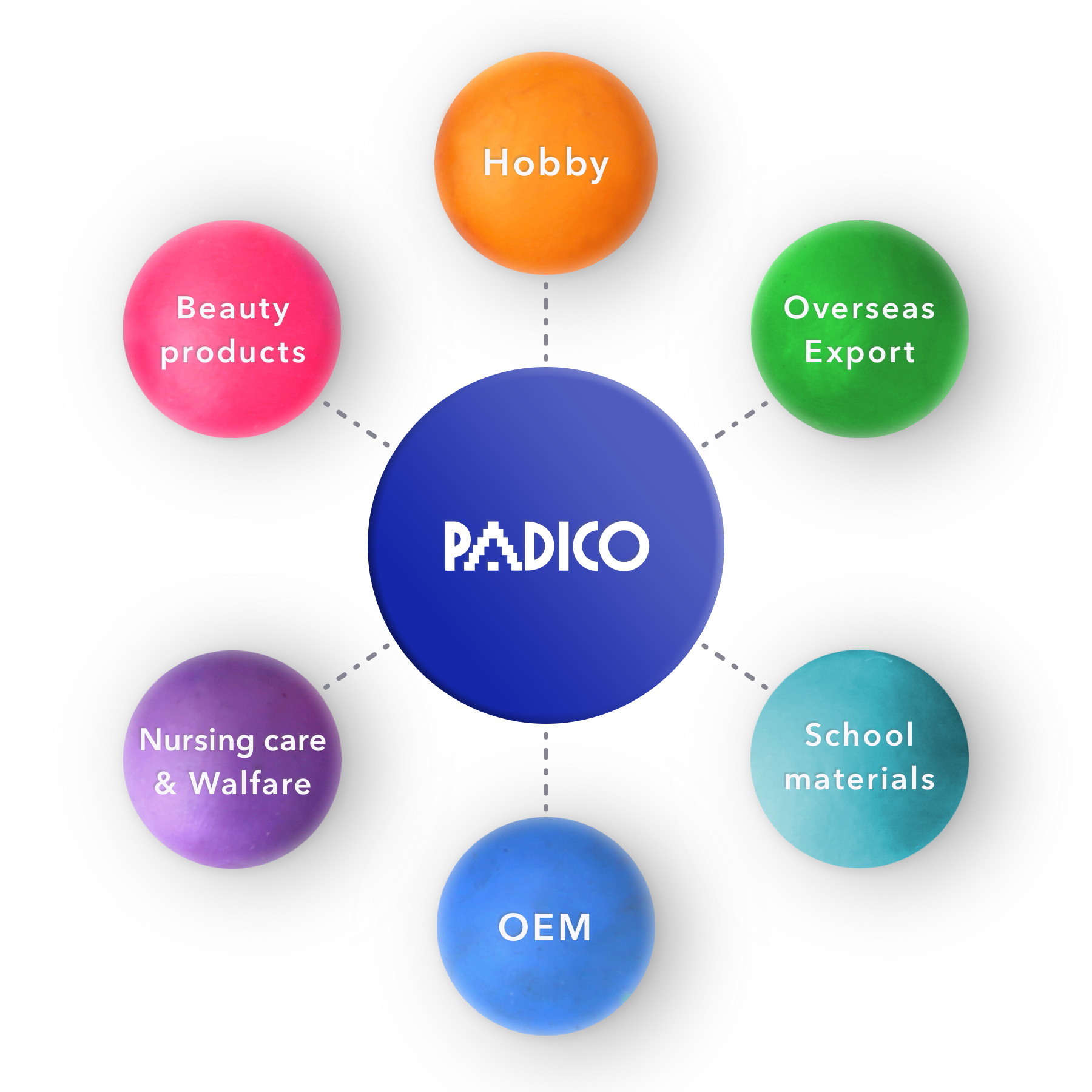 Sales Channels
●Hobby
Wholesale to the hobby, art materials, and stationery markets; deal with distributors and agents, culture schools, artists, etc.; planning and managing events and in-store craft workshops, etc.; and selling online at PADICO EC site.

●Overseas Export
Export to 35 countries around the world, including 12 major countries such as China, Hong Kong, Taiwan, Korea, the Netherlands, France, Ukraine, the United Kingdom, Russia, the United States of America, Singapore, and India.

●Beauty products
Wholesale to nail beauty supply stores and agencies, and nail artists. Planning and operation of craft workshops.

●School materials
Wholesale to educational material stores that handle arts and crafts materials for elementary and junior high schools. Planning and operating the field firing for hands-on Jomon pottery production at elementary schools.

●Nursing care & welfere
Wholesale to nursing homes and artists who are active in the area of nursing care recreations.

●OEM /Original Equipment Manufacturing
Teaching materials, stationery, toys, and others
Work for the environment
As global environmental issues become more serious, PADICO is working to reduce its environmental impact.
We are promoting the labeling materials of products and its packaging, and the introduction and consideration of alternative raw materials for materials synthesized from environmental hormones and substances suspected of being environmental hormones.